Sleep Apnea & Snoring Appliances Mississauga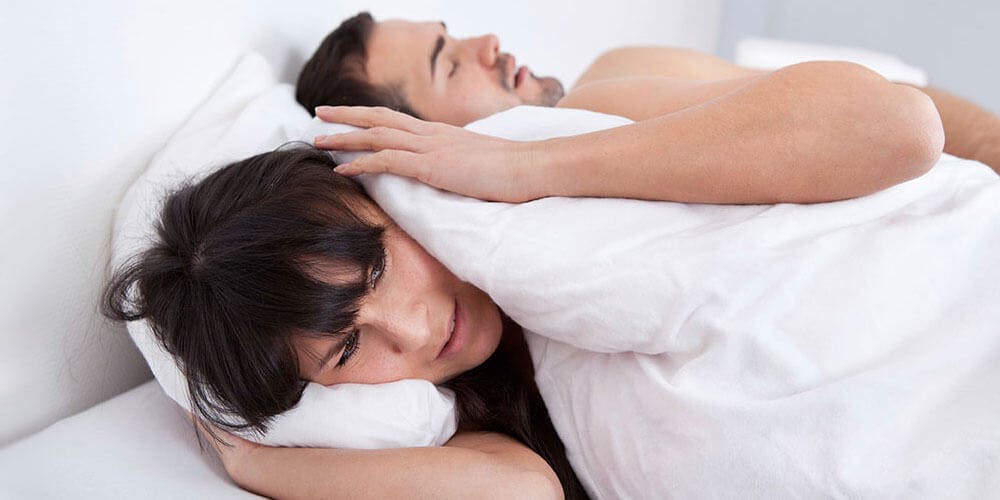 Sleep apnea is a condition where the soft tissue collapse and block the airway due to your muscles becoming overly relaxed during sleep. This results in you not breathing, lasting anywhere from several seconds to a minute (or more).
If left untreated, sleep apnea can be dangerous, and even life-threatening in some cases.
Symptoms of Obstructive Sleep Apnea
Loud snoring
Gasping for air during sleep
Difficulty staying asleep
Excessive daytime sleepiness or tiredness
Episodes where someone has noticed you stopped breathing during sleep
Risk Factors associated with Obstructive Sleep Apnea
Sleep apnea can affect anyone, even children. But certain factors increase your risk. Factors that can increase the risk of sleep apnea include:

Obesity greatly increases the risk of sleep apnea.
People with larger neck circumference usually have narrower airways.
You might also have inherited a narrow throat. Tonsils or adenoids also can enlarge and block the airway, particularly in children.
Sleep apnea occurs significantly more often in older adults.
Having family members with sleep apnea might increase your risk.
Men are two to three times more likely to have sleep apnea than are women. However, women increase their risk if they're overweight, and their risk also appears to rise after menopause.
If you, or someone you know, struggle with snoring, excessive daytime sleepiness, memory problems, irritability, fatigue, and insomnia, it may be time to consult an expert to explore whether the culprit is obstructive sleep apnea.
An oral appliance is a proven effective treatment option for many sleep apnea patients. These are devices which are fitted by a dentist or orthodontist and which the patient wears during sleep.
If you've been diagnosed with sleep apnea, Smile Horizons Dental Arts in Mississauga welcomes your call to explore creating a custom guard to help treat your condition.
If you are looking for a dentist in Mississauga for
Sleep Apnea & Snoring Appliances
please call us at
(905) 607-8778
or
book an appointment
online.
Ask Questions
We will gladly answer any questions you may have.
Ask Questions
Book Online
Smile Horizons Dental Arts offers the ability to request your dentist appointments online. Schedule an appointment now!
Book Online
New Patient Forms
By filling out the New Patient Forms ahead of time you will save significant time on your visit.
New Patient Forms
Our Distinguished
Dentist in Mississauga
A smile is a curve that sets everything straight!
Dr. Hytham Elwi

MSc Fixed and Removable Prosthodontics, DDS
Dr. Hytham Elwi is a highly qualified dentist with a specialization in Prosthodontic Dentistry. He obtained his DDS degree in 1993 and later completed an MSc in Fixed and Removable Prosthodontics. With over 12 years of experience in general dentistry, Dr. Elwi developed a special interest in implant dentistry and cosmetic dentistry.
Dr. Elwi's expertise lies in full mouth rehabilitation cases, and he has a confident approach in handling them. He is a registered member of prestigious organizations such as the Royal College of Dental Surgeons of Ontario (RCDSO), Ontario Dental Association (ODA), Academy of General Dentistry (AGD), Former member of American Association of Implant Dentistry (AAID), Jordanian Implant Dentistry Commission (JIDC). Additionally, he has been an active member of various overseas study groups and associations.
Having moved to Canada in 2015, Dr. Elwi has worked in multiple dental clinics in Ontario, utilizing his extensive knowledge and experience to provide exceptional dental services. He is not only dedicated to his profession but also a proud father of four boys who share his passion for sports and music.