Dental Veneers Mississauga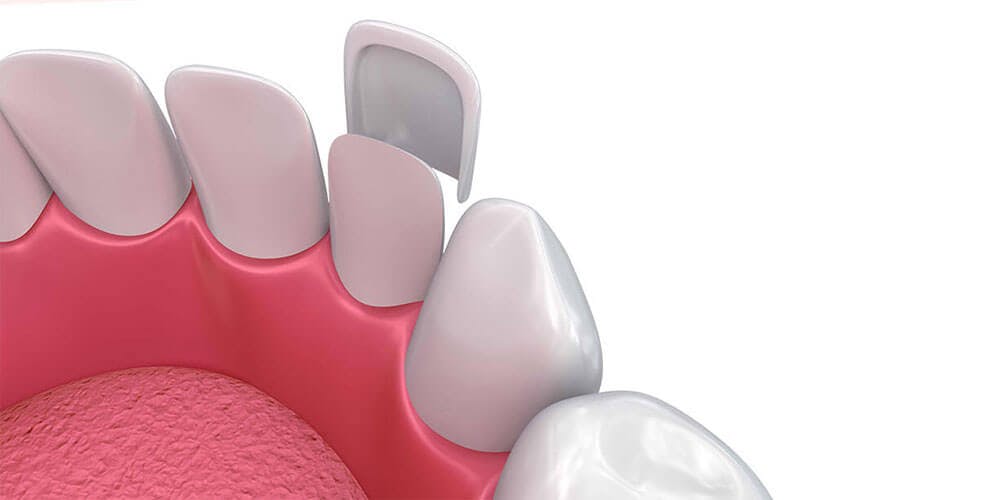 Understanding Dental Veneers in Mississauga
Porcelain veneers, a popular and versatile cosmetic dentistry procedure at Smile Horizons Dental Art, are frequently used in smile makeovers to achieve dazzling results.
These veneers provide a swift solution for addressing a wide range of aesthetic imperfections in your smile. However, they might not be suitable for everyone. To determine if veneers align with your cosmetic dentistry goals, we recommend a personal consultation with Dr. Hytham Elwi.
What are Dental Veneers?
Veneers are a popular cosmetic dentistry option used to improve the appearance of teeth that are discoloured, worn, chipped, or misaligned. They are thin shells of porcelain or resin, measuring less than 1.5mm in thickness, that are cemented onto the front surface of the tooth. The process of getting veneers typically involves preparing the tooth, taking an impression, creating a custom veneer at a dental laboratory, and then cementing it in place.
Dental Veneers in Mississauga: Addressing Dental Issues
Dental veneers are a great solution for a wide range of cosmetic and structural dental issues, including:
Minor misalignment
Uneven teeth
Teeth discoloration
Cracked or chipped teeth
Gaps in teeth
Wear and tear
The porcelain used in veneers mimics the natural colour of teeth, making them an ideal option for those looking to improve the appearance of their smile.
How Long Do Porcelain Veneers Last?
Porcelain veneers are considered a permanent dental procedure, customized to fit each patient's needs, and typically last between 10-15 years. With proper oral care and regular dental visits, some patients have enjoyed high-quality veneers for up to 30 years without replacements.
Are There Any Risks With Porcelain Veneers?
While porcelain veneers are durable, there are some risks associated with them. Over time, patients may experience increased tooth sensitivity to hot or cold foods and drinks. Grinding or clenching teeth, even during sleep, can lead to chipping or breakage of veneers. However, these issues can often be addressed through dental restoration. Proper care and following Dr. Hytham guidelines can minimize these risks and ensure a successful veneer experience.
Benefits of Porcelain Veneers
They provide a natural tooth appearance. The colour can be matched to your actual tooth colour.
Gum tissue tolerates porcelain well.
Porcelain veneers are highly stain resistant, so they usually stain less than your actual teeth, keeping them whiter for long.
Veneers offer a conservative approach to changing a tooth's color and shape; veneers generally don't require the extensive shaping prior to the procedure that crowns do, yet offer a stronger, more aesthetic alternative.
Although veneers are more expensive and time-consuming than bonding, they are less expensive than opting for crowns (and also conserve the natural tooth, as a bonus).
The Three-Step Process of Getting Porcelain Veneers in Mississauga
Diagnosis and planning: During the first visit, you'll actively participate in designing your new smile. Dr. Hytham will thoroughly explain the veneers process and provide personalized recommendations for your treatment plan.
Preparation: In the second visit, your teeth will be prepared to accommodate the veneers. Dr. Hytham will take an impression of your teeth, which will be sent to the lab for creating your porcelain veneers.
Bonding: The third and final appointment, lasting approximately 1-2 hours, involves placing the veneers on your teeth. Dr. Hytham will check their fit and color. Once confirmed, he'll bond the veneers to your teeth using dental cement, hardened by a visible light beam.
If you are looking for a dentist in Mississauga to find a solution for worn, stained or misaligned teeth, give Smile Horizons Dental Arts a call at (905) 607-8778 and our dentists can help you find an affordable solution such as veneers.
If you are looking for a dentist in Mississauga for
Dental Veneers
please call us at
(905) 607-8778
or
book an appointment
online.
Ask Questions
We will gladly answer any questions you may have.
Ask Questions
Book Online
Smile Horizons Dental Arts offers the ability to request your dentist appointments online. Schedule an appointment now!
Book Online
New Patient Forms
By filling out the New Patient Forms ahead of time you will save significant time on your visit.
New Patient Forms
Our Distinguished
Dentist in Mississauga
A smile is a curve that sets everything straight!
Dr. Hytham Elwi

MSc Fixed and Removable Prosthodontics, DDS
Dr. Hytham Elwi is a highly qualified dentist with a specialization in Prosthodontic Dentistry. He obtained his DDS degree in 1993 and later completed an MSc in Fixed and Removable Prosthodontics. With over 12 years of experience in general dentistry, Dr. Elwi developed a special interest in implant dentistry and cosmetic dentistry.
Dr. Elwi's expertise lies in full mouth rehabilitation cases, and he has a confident approach in handling them. He is a registered member of prestigious organizations such as the Royal College of Dental Surgeons of Ontario (RCDSO), Ontario Dental Association (ODA), Academy of General Dentistry (AGD), Former member of American Association of Implant Dentistry (AAID), Jordanian Implant Dentistry Commission (JIDC). Additionally, he has been an active member of various overseas study groups and associations.
Having moved to Canada in 2015, Dr. Elwi has worked in multiple dental clinics in Ontario, utilizing his extensive knowledge and experience to provide exceptional dental services. He is not only dedicated to his profession but also a proud father of four boys who share his passion for sports and music.