All you need to know about Dental Implants
Posted by

Dr. Hytham Elwi

on

Sun, 18 Jun 2023
Smile Horizons Dental Arts - Dentist Mississauga
---
Most of us were born with a beautiful smile, but things can happen that affect our natural smile as time progresses. Dental neglect, trauma, and injuries can all lead to issues that can cause tooth loss. When this happens, it's time to start exploring your options for tooth replacement. At Smile Horizons Dental Arts, we offer several innovative solutions for Mississauga, Ontario, area residents interested in their options for dental implants. Although dental implants are increasingly common, many people have questions about what's involved in the implant procedure.
Why you should replace missing teeth
When you lose one or more teeth, it doesn't just affect your smile. The negative effects of losing a tooth are more far-reaching than many people realize. Tooth loss can result in any of the following troublesome issues:
The remaining teeth begin to shift inwards
Your jawbone starts to deteriorate, resulting in a sunken facial appearance
You may have difficulty speaking clearly
Chewing may become uncomfortable or inefficient
BEFORE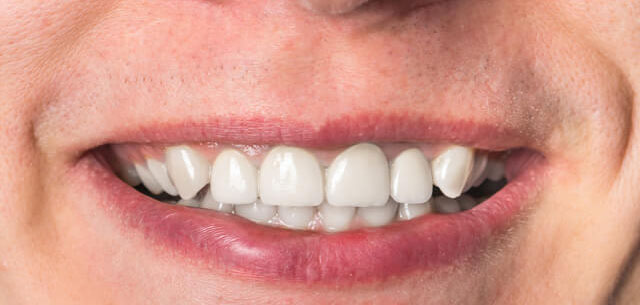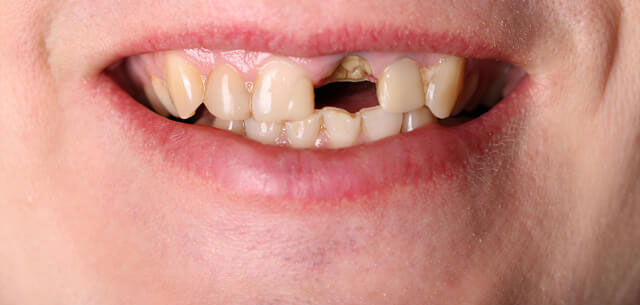 AFTER
Additionally, if you're missing one or more teeth, you may be self-conscious and embarrassed about your smile. This may cause you to limit your social interactions. When you're not around people, it can lead to loneliness, depression, and more and can negatively affect your existing relationships.
What follows next are some frequently asked questions about dental implants from our patients.
How many teeth can be replaced with dental implants?
You can replace as many teeth as you need to. If you replace one tooth, you will need a dental implant and a specially-designed crown. For replacing several teeth, your dentist may design an implant-supported bridge, either full or partial, depending on how many teeth you need to replace.
What can I expect from the procedure?
The first step is a consultation and planning session with your dentist. Intraoral cameras will be used to examine your teeth, and digital x-rays will be taken to ensure you receive the best results. Your dental implant procedure will then be planned out — it's important to note that the entire procedure may take up to six months or more for completion. However, patients find that this is well worth the wait because you will have a tooth replacement that lasts for life!
Will I be sedated during the procedure?
While the dental implant procedure is comfortable, we do offer various sedation options.
What can I eat after the procedure?
For the first two days following your dental implant procedure, you will need to consume soft foods and drink liquids, such as any of those listed below:
Milkshakes
Yogurt
Pudding
Mashed potatoes
Smooth soups
On the third day, you can add soft foods that require minimal chewing. Foods such as cooked noodles, scrambled eggs, and soft sandwiches are ideal.
How do I care for my implants?
You need to take care of your dental implants the way you take care of your natural teeth. This means you should brush and floss your teeth daily, plus attend regular dental checkups and professional cleanings.
How long do dental implants last?
With solid dental care and hygiene practices, your dental implants can last up to 25 years or more.
Dental implants near me in Mississauga, Ontario
To learn more about your options for dental implants, get in touch with Dr. Hytham Elwi and his team at Smile Horizons Dental Arts in Mississauga, Ontario. We are here to answer all of your questions. Call us at (905) 607-8778 or contact us online today.
---
Dentist Mississauga
Ask Questions
We will gladly answer any questions you may have.
Ask Questions
Book Online
Smile Horizons Dental Arts offers the ability to request your dentist appointments online. Schedule an appointment now!
Book Online
New Patient Forms
By filling out the New Patient Forms ahead of time you will save significant time on your visit.
New Patient Forms