Smile Makeover Mississauga
What is a smile makeover?
Looking for a smile transformation? A smile makeover is a personalized cosmetic dental procedure that addresses your unique dental issues and goals. Our Mississauga based dentists takes into account a variety of factors when crafting your personalised treatment plan, which can range from simple teeth whitening to more extensive procedures like porcelain crowns on all teeth.
With a smile makeover, you can achieve a straighter, whiter, and brighter teeth, all while achieving the smile you've always wanted.
Invest in a smile makeover near you today and start loving your smile again!
How does a smile makeover work in Mississauga
To undergo our smile makeover, we'll guide you through a few essential steps.
✓ Step 1 - Let's Get Started: Health Evaluation & Analysis
✓ Step 2 - Customized Care: Treatment Options & Personalization
✓ Step 3 - Ready, Set, Smile: Treatment Procedures & Tweaks
✓ Step 4 - Keeping It Fresh: Post-Treatment Support & Monitoring
✓ Step 5 - Smile for Life: Sustaining Long-Term Results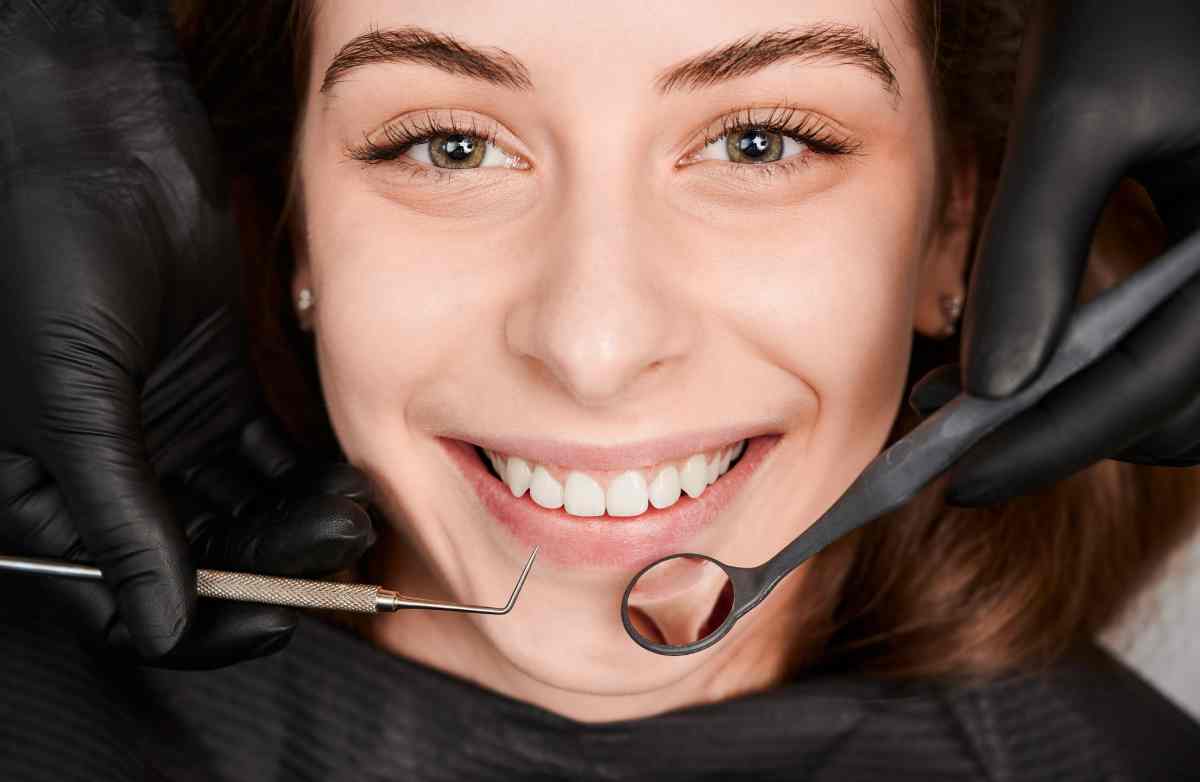 Let's Get Started: Health Evaluation & Analysis
To find the "heart" of the issues, a few diagnostic tests are done as the initial stage of your smile makeover. Dentists at our clinic in Mississauga will take x-rays and a sequence of intraoral images. You'll be able to view the results with our dentist.
Remember that each person has a distinct dental structure. For this reason, you'll need a tailored strategy that only a skilled dental professional can deliver.
Customized Care: Treatment Options & Personalization
During this step, our dentist will review the results of your diagnostic and testing stage and discuss with you the recommended treatment options based on your unique smile goals. We'll take into account factors such as the shape and size of your new teeth, measuring your new bite, and more to create a customized plan just for you.
Ready, Set, Smile: Treatment Procedures & Tweaks
Our smile makeover treatments are tailored to each patient and can range from simple cleaning and whitening to more complex procedures like bonding, crowns, or veneers. Depending on the severity of any dental and medical problems, it may involve treatment on several or all of your teeth. We'll work with you to ensure the best results, including fine-tuning the aesthetics and resolving any symptoms.
Keeping It Fresh: Post-Treatment Support & Monitoring
After your cosmetic dental treatments are completed, our team will provide you with information on how to maintain your new smile. Regular brushing and flossing are essential for avoiding common dental issues. Certain cosmetic treatments may require maintenance over time, such as teeth whitening. Porcelain veneers, composite bonding, and dental crowns may require replacement after 10 or 15 years. We'll work with you to develop a plan that keeps your smile looking great for years to come.
Smile for Life: Sustaining Long-Term Results
We'll work with you to develop a smile you'll adore, so don't be self-conscious about it! For bright, white smiles, our skilled dentists specialize in rebuilding and reconstructing teeth.
What does a Smile Horizons Dental Arts smile makeover include?
Our smile makeover services are designed to address common aesthetic concerns like tooth discoloration and yellowing. Through personalized teeth whitening procedures, we can brighten and even out the shade of your smile, leaving you with a more radiant and attractive appearance.
Dental crowns and veneers restore your smile when your tooth is damaged or missing. Whether it's erosion, chips, or discoloration, our cosmetic dentists will assess your teeth and recommend the best option for you.
Replace Missing Teeth with Implants and Bridges
Missing teeth can lead to various dental problems, including tooth decay, changes in your bite, and bone loss in the jaw. Our dental implants, bridges, or dentures can replace missing teeth and restore your appearance and oral health. Depending on the location of the missing tooth, our dentist may recommend implants, bridges, or veneers to provide the best cosmetic solution.
Repair Your Gums for a Perfect Smile
Unhealthy gums or excess tissue can impact your smile's appearance. Our oral surgeon can expertly remove excess tissue for those with a gummy smile, or use pinhole surgery to cover more of the tooth surface in case of receding gums. For patients with gum disease, antibiotics and gum re-contouring are effective solutions to shape the ideal smile line.
Correct Misalignment for a Perfect Smile
Proper alignment is an essential component of a perfect smile. Orthodontic appliances like braces or Invisalign, veneers, and other dental restorations can help realign your smile by fixing issues such as overlapping teeth or excessive gaps. Our cosmetic dentists will evaluate your teeth and recommend the best orthodontic or restorative treatment for your needs to achieve a beautiful, straight smile.
If you are looking for a dentist in Mississauga for
Smile Makeover
please call us at
(905) 607-8778
or
book an appointment
online.
Ask Questions
We will gladly answer any questions you may have.
Ask Questions
Book Online
Smile Horizons Dental Arts offers the ability to request your dentist appointments online. Schedule an appointment now!
Book Online
New Patient Forms
By filling out the New Patient Forms ahead of time you will save significant time on your visit.
New Patient Forms
Our Distinguished
Dentist in Mississauga
A smile is a curve that sets everything straight!
Dr. Hytham Elwi

MSc Fixed and Removable Prosthodontics, DDS
Dr. Hytham Elwi is a highly qualified dentist with a specialization in Prosthodontic Dentistry. He obtained his DDS degree in 1993 and later completed an MSc in Fixed and Removable Prosthodontics. With over 12 years of experience in general dentistry, Dr. Elwi developed a special interest in implant dentistry and cosmetic dentistry.
Dr. Elwi's expertise lies in full mouth rehabilitation cases, and he has a confident approach in handling them. He is a registered member of prestigious organizations such as the Royal College of Dental Surgeons of Ontario (RCDSO), Ontario Dental Association (ODA), Academy of General Dentistry (AGD), Former member of American Association of Implant Dentistry (AAID), Jordanian Implant Dentistry Commission (JIDC). Additionally, he has been an active member of various overseas study groups and associations.
Having moved to Canada in 2015, Dr. Elwi has worked in multiple dental clinics in Ontario, utilizing his extensive knowledge and experience to provide exceptional dental services. He is not only dedicated to his profession but also a proud father of four boys who share his passion for sports and music.