Dental Bonding Mississauga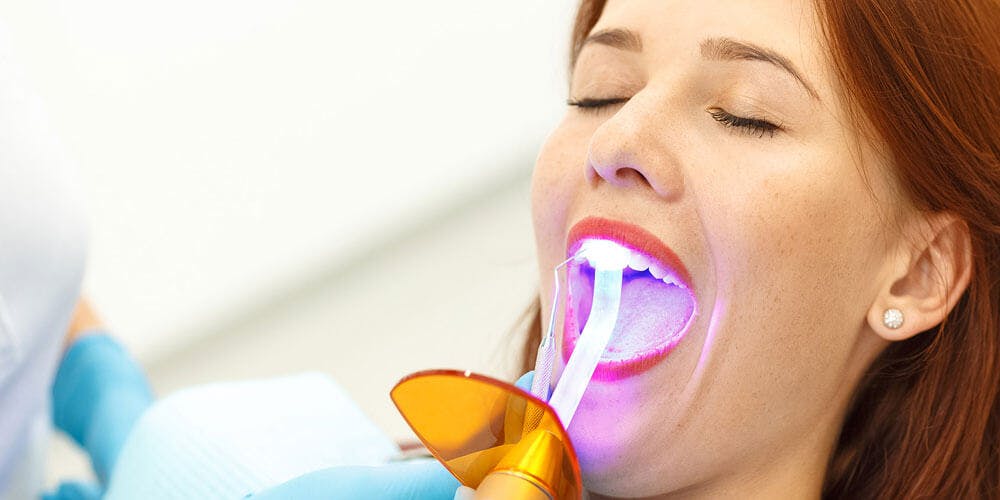 What Is Dental Bonding?
Composite bonding, also known as bonding, is a cosmetic dental procedure that can repair and enhance the appearance of teeth. Using materials that match the shade, translucency, and texture of the patient's existing teeth, gaps between teeth can be closed, spots and discolorations can be eliminated, and overall self-confidence can be increased through the improved appearance of the smile.
What's Involved in Dental Bonding
Our dentists will match the shade of the patient's existing teeth and then apply tooth-coloured composite resin to the tooth, similar to the procedure used for fillings. The resin is then hardened with a curing light and shaped, contoured, and polished to give an authentically natural appearance.
A Rapid Fix for Minor Dental Concerns
Composite bonding is excellent for small defects in the teeth such as:
Worn out teeth
Chipped teeth
Teeth with gaps
Comparing Dental Bonding to Other Dental Treatment Options
When it comes to restoring your teeth or achieving your dream smile, there are various options available. The best choice for you will depend on your specific needs. During your consultation, we will discuss all of your options and the benefits and drawbacks of each, to help you make an informed decision. One option to consider is dental bonding, which has several advantages, such as:
Being quick and painless: Unlike fillings or dental veneers, which require some drilling to prepare the tooth, dental bonding usually does not require any removal of your natural tooth, making it almost always completely painless.
Being a cost-effective option: More extensive treatments like dental veneers and orthodontics can be more expensive. However, for minor changes to a few teeth, dental bonding is a simple and cost-effective treatment.
Being great for small repairs: If you're envisioning extensive changes to your smile, you may benefit from a more complex treatment plan like dental veneers, crowns, or orthodontics. But for minor changes, dental bonding is a simple solution.
If you are looking for a dentist in Mississauga for composite bonding, please call us at (905) 607-8778 and book an appointment with our dentists.
If you are looking for a dentist in Mississauga for
Dental Bonding
please call us at
(905) 607-8778
or
book an appointment
online.
Ask Questions
We will gladly answer any questions you may have.
Ask Questions
Book Online
Smile Horizons Dental Arts offers the ability to request your dentist appointments online. Schedule an appointment now!
Book Online
New Patient Forms
By filling out the New Patient Forms ahead of time you will save significant time on your visit.
New Patient Forms
Our Distinguished
Dentist in Mississauga
A smile is a curve that sets everything straight!
Dr. Hytham Elwi

MSc Fixed and Removable Prosthodontics, DDS
Dr. Hytham Elwi is a highly qualified dentist with a specialization in Prosthodontic Dentistry. He obtained his DDS degree in 1993 and later completed an MSc in Fixed and Removable Prosthodontics. With over 12 years of experience in general dentistry, Dr. Elwi developed a special interest in implant dentistry and cosmetic dentistry.
Dr. Elwi's expertise lies in full mouth rehabilitation cases, and he has a confident approach in handling them. He is a registered member of prestigious organizations such as the Royal College of Dental Surgeons of Ontario (RCDSO), Ontario Dental Association (ODA), Academy of General Dentistry (AGD), Former member of American Association of Implant Dentistry (AAID), Jordanian Implant Dentistry Commission (JIDC). Additionally, he has been an active member of various overseas study groups and associations.
Having moved to Canada in 2015, Dr. Elwi has worked in multiple dental clinics in Ontario, utilizing his extensive knowledge and experience to provide exceptional dental services. He is not only dedicated to his profession but also a proud father of four boys who share his passion for sports and music.