Dental Crowns Mississauga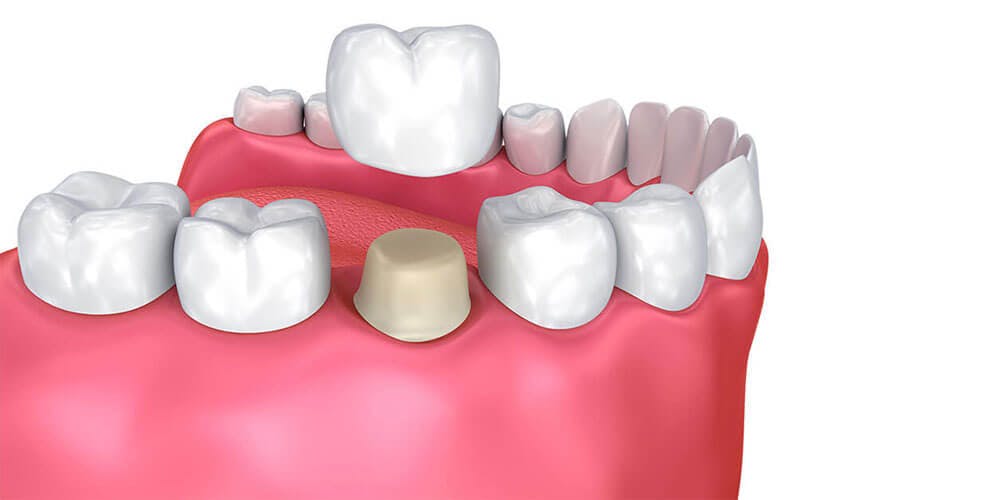 Dental crowns are a common solution for injured, discolored, or cracked teeth. They fit over the affected tooth and protect it from further damage. They can also fill the space left after dental extractions
The Role of Dental Crowns in Restoring Teeth
Dental crowns, also known as caps, are used to restore teeth that have been broken or are at high risk of breaking. They are typically constructed from noble alloys or porcelain and are needed if a significant portion of the tooth is missing.
When might a Dental Crown be Recommended?
A previous filling has broken or fractured
Too much of a tooth is lost to decay
Extensive damage due to decay or breakage
Tooth sensitivity
Cosmetic purposes, such as discoloration
Protection after root canal therapy
Fractured or chipped surfaces.
The Process of Getting a Dental Crown
The process of getting a dental crown begins with a consultation with one of our dentists. During your first visit, they will prepare your tooth structure and take an impression of the prepared tooth. They will then place a temporary crown on the tooth and send the impression to a dental laboratory to fabricate the crown. At your next visit, the dentist will try-in the crown to ensure a good fit and then cement it in place.
When the procedure is finished, the crown will blend seamlessly with your teeth and restore your all-white smile. It will also return the strength that you need for comfortable oral function.
Here at Smile Horizons Dental Arts in Mississauga, we offer crowns and bridge services to our patients. If you have missing teeth, please call us at (905) 607-8778 and book a consultation with our dentist to discuss your options.
If you are looking for a dentist in Mississauga for
Dental Crowns
please call us at
(905) 607-8778
or
book an appointment
online.
Ask Questions
We will gladly answer any questions you may have.
Ask Questions
Book Online
Smile Horizons Dental Arts offers the ability to request your dentist appointments online. Schedule an appointment now!
Book Online
New Patient Forms
By filling out the New Patient Forms ahead of time you will save significant time on your visit.
New Patient Forms
Our Distinguished
Dentist in Mississauga
A smile is a curve that sets everything straight!
Dr. Hytham Elwi

MSc Fixed and Removable Prosthodontics, DDS
Dr. Hytham Elwi is a highly qualified dentist with a specialization in Prosthodontic Dentistry. He obtained his DDS degree in 1993 and later completed an MSc in Fixed and Removable Prosthodontics. With over 12 years of experience in general dentistry, Dr. Elwi developed a special interest in implant dentistry and cosmetic dentistry.
Dr. Elwi's expertise lies in full mouth rehabilitation cases, and he has a confident approach in handling them. He is a registered member of prestigious organizations such as the Royal College of Dental Surgeons of Ontario (RCDSO), Ontario Dental Association (ODA), Academy of General Dentistry (AGD), Former member of American Association of Implant Dentistry (AAID), Jordanian Implant Dentistry Commission (JIDC). Additionally, he has been an active member of various overseas study groups and associations.
Having moved to Canada in 2015, Dr. Elwi has worked in multiple dental clinics in Ontario, utilizing his extensive knowledge and experience to provide exceptional dental services. He is not only dedicated to his profession but also a proud father of four boys who share his passion for sports and music.